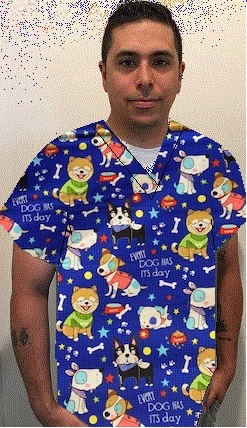 Everybody who loves animals loves veterinary scrubs! Need scrubs to wear to work and don't have time for house training? With these veterinary scrub tops, no house training is needed!

You can enjoy these playful pups and all their adorable antics, even take them to work with you, while sparing your shoes and furniture. These romping rovers are ideal, already house-broken and currently in stock!
And what's cuter than a month-old puppy or kitten? Well, if those real-life yips and yaps, barks, and mischief are more than you can handle, then perhaps our parrot print scrubs and horse print scrubs are the preferable option.

Looking for scrub tops with rabbits, snakes, lizards or other cute creatures? Visit all of our other categories at Animal Print Scrubs

Some modeled pictures may not be to scale. We have samples available if needed.

Our custom made scrubs are available in big and tall sizes up to and including 5X, and available in all of our styles.