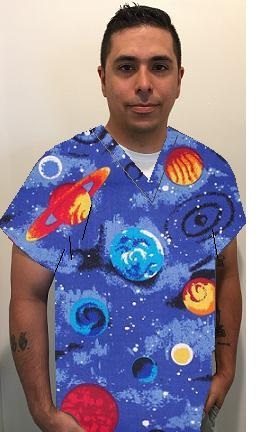 Looking for unique Celestial print scrub tops for the midnight shift? Here's your fabric!
Our celestial print fabric "Constellations" and "Black In Space" are both perfect for the midnight shift. They also work good as Dental Scrubs.

Pair these custom made scrubs with black scrub pants for an awesome style of your own! Have these fabrics turned into classic v-neck scrub tops, cross-over styles, warm up jackets, or buy the fabric by the yard for your own projects.
Remember ...our v-neck scrub tops are UNISEX and

Space print scrubs are hot sellers because they are so relaxing. Massage Therapists love them for the relaxing benefit to their clients, and for the therapist the benefit is the comfortable 100% cotton scrubs fabric.
Celestial Print Scrubs...
..
refers to Heaven and sky..
stars, planets, asteroids, zodiak, and unidentified flying objects all on unique custom made print scrubs for men AND women, because they are unisex and available in plus size, big and tall scrubs too.