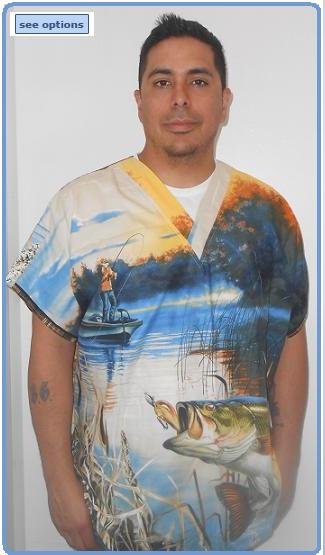 Back by demand is our

Awesome RealTree Fishing Print Scrubs.

Order it now because again, it's limited quantity. Full print in front and back!

We know Print Scrub Tops For Men are hard to find, so we at TopSpot4U, make sure we rock the Mens Printed Scrub Tops category! Men like their medical uniforms to be just as unique as their female nursing co-workers and until now, have spent much time searching for unique printed scrub tops that are man-ly enough for the men to wear. Our 100% cotton Mens print scrub tops are the most comfortable to wear, generously sized, and reinforced at the stress points. Men can also choose from our Animal Print Scrubs, Cartoon Scrubs, Biker and Skull Print Scrubs, and of course our Veterinary Scrubs, and Sports Print Scrubs. Choose your custom made scrubs in Tall, petite and average, while having as many pockets placed wherever you choose. MEN, you can now have just as much fun picking out your Unique Print Scrub Tops from TopSpot4U! Don't forget to check out our Ready-Made selection too! Ready-made and ready to ship.


PLEASE check our super easy size chart and you will get your custom made mens print scrub tops just the way you want them. Don't guess at it.....not all sizes are the same in every store. Check the length of our scrub tops too.....it's on the size chart.